Today we're going to swoop in on a subset collection on the Stacks blockchain. So, follow your nose, everyone we're going to break down the 3D Stacks Parrots Bitcoin NFT Collection.
What do 3D Stacks Parrots NFT's look like?
3D Stacks Parrots are three-dimensional pixelated NFT's that face toward the viewer's center-left. If you look closely, it almost looks like they were built with Legos. They rest on a floating perch and come with a variety of attributes which contribute to overall rarity.
3D Stacks Parrots are a subset of the Stacks Parrots NFT collection. I wrote a review of Stacks Parrots earlier this year, you can find that blog post right here.
Interested in Bitcoin NFT's? Well, you're gonna need some Stacks. You can buy STX on OKCoin, the preferred exchange of the Stacks ecosystem. You can even earn $50 of Bitcoin as a bonus by using this link. And what's better than free money?
The History Behind 3D Stacks Parrots.
Minting for this collection began on January 24, 2022.
Anyone who owned two of the original Stacks Parrots NFT's could "breed" a 3D Parrot as well. Owners of the 3D Parrots receive rewards for holding their tokens.
What are some of the key Rarity Attributes of this NFT Collection?
There are five attributes, Background, Base, Branches, Eyes, Headgear.
Background – Six variants, gradient solid colors.
Base – There are seven possible base feather patterns for each parrot, including Tiger, Rainbow and Zebra.
Eyes – Seven different types with Laser as the most rare (0.75%).
Headgear – Thirteen possibilities, including Santa Hat, Royal Crown and Backwards Cap.
"Not your keys, not your coins" has never been more true. A hardware wallet is essential. Keeping your crypto tokens on an exchange exposes your assets to potential loss and theft. Ledger makes accessing your NFT's and your crypto safe and easy.
Find out how easy it is to make sure your coins are kept safe.
What is the Rarest 3D Stacks Parrot NFT?
That distinction belongs to #221 with Rainbow Base and Gold Horn variants:
Which 3D Stacks Parrot NFT is the Dopest IMHO?
My choice is #296 with the "Jacket and Tie" base and the "Nemes" Egyptian-style headgear. I'm not in love with the background in this one, though. I was drawn to the tokens with the Laser eyes, but all of them had the gray background that mutes the image. So, if there is one criticism I have of the 3D Stacks Parrots, it is the questionable background options that don't accentuate the most visually striking images in the collection.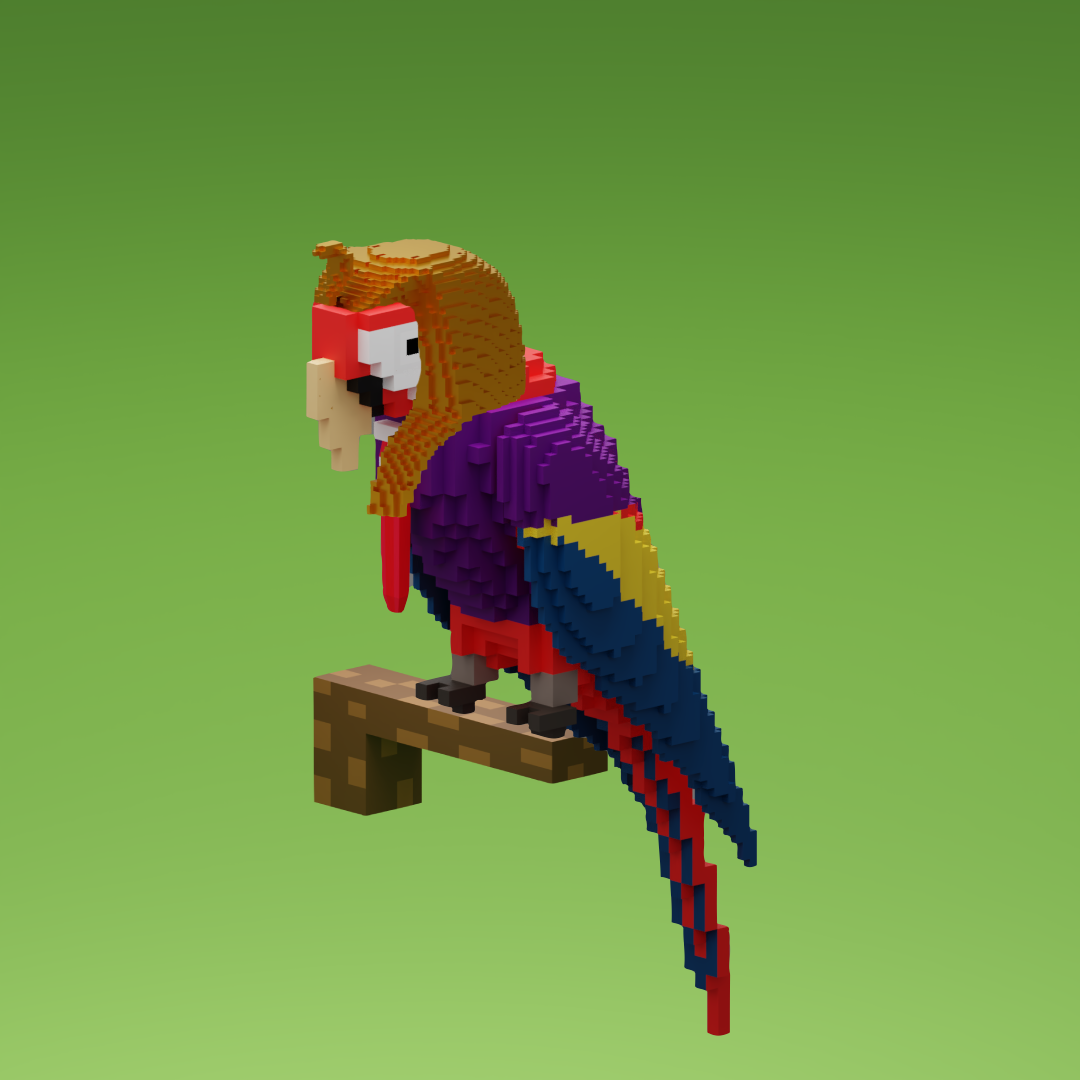 Interested in Bitcoin NFT's? Well, you're gonna need some Stacks. You can buy STX on OKCoin, the preferred exchange of the Stacks ecosystem. You can even earn $50 of Bitcoin as a bonus by using this link. And what's better than free money?
How Far Are They On Their Roadmap?
While I've covered the roadmap in my post on Stacks Parrots, they have added a few new innovations for their holders in recent months.
First let's take a look at the Stacks Parrots Gallery:
Stacks Parrots created a virtual gallery where holders can view not only Stacks Parrots related tokens, but all of their Bitcoin NFT's. The announcement was made in late August and any 2D or 3D Stacks Parrot holder can access the gallery by connecting their wallet.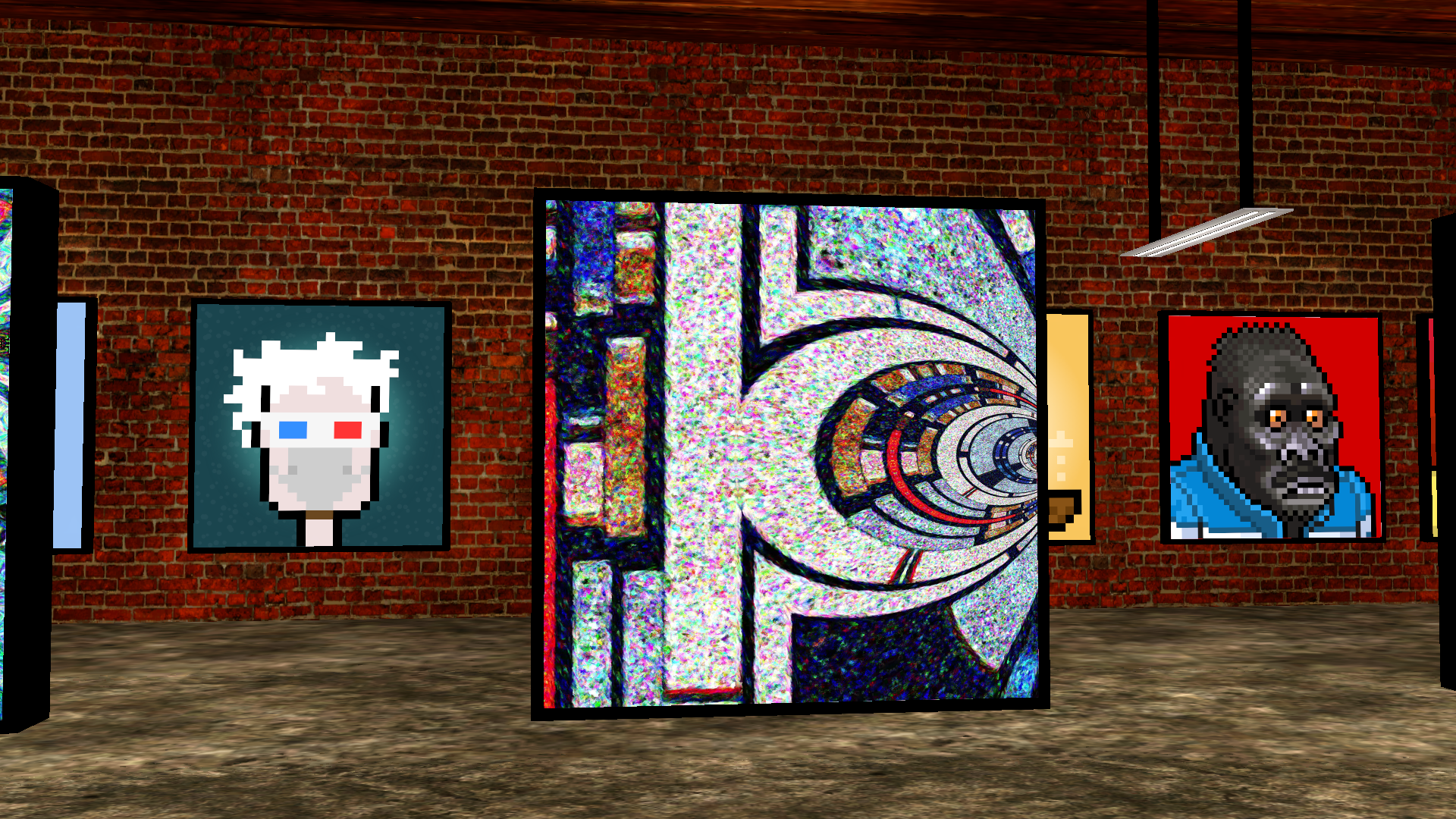 I highly recommend this review of the gallery by @Jacksbinswitch (he is also quite knowledgeable about the Stacks ecosystem and worth a follow on Twitter as well).
In addition to this, holders can look forward to the upcoming release of Parrot Radio, a player for audio and audiovisual NFT's. Parrot Radio will be accessible to holders using their .BNS address (here's my review of BNS on Stacks).
Does This Project Have Any Utility?
Yes it does, as 3D Parrot Holders receive dividends. 30% of secondary sales are redistributed to 3D holders at the end of each quarter. Holders of both Stacks Parrots and 3D Parrots gain entry into draws for 1/1 collaborative Parrot NFT's released each quarter. They explain this concept in more detail on their main page. Holders also gain lifetime access to the Gallery and to Parrot Radio.
How Much Do 3D Stacks Parrots Cost Today?
The floor for this collection is currently 235 STX. As of November 12th, 2022 with the price at $0.23, you're looking at just over $54 to pick up a 3D Stacks Parrot.
What is the Future For This NFT Collection?
The team behind Stacks Parrots continues to augment their already impressive NFT collection through concepts like their Parrot Radio and Gallery. With an expanded lineup of 1-of-1 collaborative tokens, they continue to elevate their entire set within the Stacks NFT lineup.
Where Can I Buy 3D Stacks Parrots Bitcoin NFT's?
These Bitcoin NFT's can be purchased at:
Are 3D Stacks Parrots NFT's a Good Investment?
While none of this is to be construed as financial advice (please see the website disclaimer), anyone who reads this blog or follows my Twitter already knows that I am very bullish on the outlook for Stacks cryptocurrency, the underlying blockchain for all Bitcoin NFT's.
NFT's on Stacks are absolutely exploding since their debut in 2021. In addition to their recent listing on Coinbase, the Stacks ecosystem is best represented on OKCoin, where you can get exposure to Stacks, Arkadiko Finance, and CityCoins like MiamiCoin and NYCCoin. Stacks is the protocol that brings d'Apps, NFT's and Ethereum-like utility to Bitcoin. I am a believer that any exposure to Stacks comes with tremendous future upside potential. So, while everyone should do their own research before investing in any NFT or cryptocurrency, I think the future of most NFT projects on Stacks hold considerable promise.
OK, I appreciate you reading this far.
If you learned something from this post, you can see the rest of my reviews of the phenomenal NFT collections on Stacks, right here: