Late last night El Salvadoran President Nayib Bukele announced that there will be a Bitcoin City built next to the Gulf of Fonseca in El Salvador. Here in the states, we have lauded the vision of Francis Suarez, the Mayor of the City of Miami, for his consistent efforts to integrate Bitcoin into city governance. With his powers as President, Bukele has moved forward with incorporating Bitcoin into the fabric of his entire country.
A City Built on Bitcoin
We've moved the entire video along to the point of his announcement:
El Salvador, the only country in which bitcoin is a legal tender, is going to build an entire city based on the largest cryptocurrency, President Nayib Bukele told a raucous crowd in a Saturday night presentation at Bitcoin Week in El Salvador.
"Bitcoin City" will be located along the Gulf of Fonseca near a volcano. The government plans on locating a power plant by the volcano to provide energy for both the city and bitcoin mining, the president said.
According to Bukele, Bitcoin City will be a full-fledged metropolis with residential and commercial areas, restaurants, an airport as well as a port and rail service. The city will be laid out in a circle (like a coin) and in the city center will be a plaza that will be host to a huge bitcoin symbol. The city will have no income, property, capital gains or payroll taxes.
Bukele also said El Salvador plans on issuing $1 billion US "bitcoin bond," a tokenized financial instrument developed by Blockstream, on the Liquid Network. Of that amount, $500 million will be used to help construct needed energy and bitcoin mining infrastructure and $500 million to buy even more bitcoin. At the cryptocurrency's recent trading price of about $59,000, that would bring the country's treasury stash to just under 2,000 bitcoins.
El Salvador will become "the Singapore of Latin America," Mow said.
Why Compare Bukele's El Salvador with Singapore?
Singapore is known for its high-powered economy that is pro-business, low-tax and incredibly dynamic. This makes Singapore extremely attractive to foreign investors. Bukele is looking to create a Central American city with no income, municipal, property, or capital gains taxes. Calling this project ambitious would be a colossal understatement.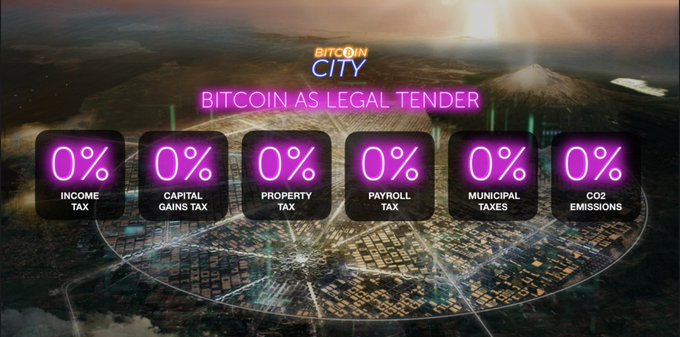 The city will be planned out in a circular model, with a giant Bitcoin symbol in the center. Bukele has already proven his commitment to Bitcoin through his volcanic mine. Should his efforts prove successful, El Salvador could very well become the Western Hemisphere's answer to Singapore.
Next Level Innovation
Legalizing the use of a currency whose value can't be inflated into oblivion is innovative in and of itself, but this initiative goes far beyond that. Francis Suarez floated the idea of a tax-free city a few weeks back and then upped the game by issuing his constituents a dividend of Bitcoin. While Miami receives millions of dollars through Miami Coin, a City Coin that runs on the Stacks protocol, Bukele plans to fund this through Bitcoin bonds.
A city that removes the burden of traditional taxes from its citizens is completely revolutionary. Should other countries refuse to acknowledge the trend toward decentralized finance and inflation-proof, sound currencies like Bitcoin, El Salvador will lead the way and become a dynamic, economic powerhouse the Western Hemisphere.
Did you enjoy this post? If so, please do us a solid and to share us on Twitter!
You can also subscribe to our weekly crypto news roundup. It's free and you can opt-out at any time. When you do, you'll receive a copy of our eBook 9 Unusual Ways You Can Make Money With Crypto (But Can't With Cash)
You can also help keep this blog going when you click this link to receive a FREE $50 in BitCoin for signing up with OKCoin. When you do, you'll get $50 and so will we.
And what's better than free money? Free Bitcoin!
-The Crypto Trend Analyst Team