On to part 13 of my series reviewing Bitcoin NFT Projects built on Stacks and we're going to examine the project inspired by the author who first visualized the metaverse. It's time for a review of Crash Punks. You can check out the first 12 NFT reviews in the series, right here:
.
The History of Crash Punks
This project was announced on October 12, 2021.
This NFT collection is inspired by the 1992 sci-fi novel, Snow Crash. An incredibly influential work, it popularized the term "avatar" and introduced readers to the concept of the "Metaverse," almost 30 years before Mark Zuckerberg did.
The mint date was December 12th at 12PM UTC. The price was 64 STX and there were 10,000 in the collection.
At launch there was a bug which allowed some to mint more than their proper allocation.
Some took advantage of the bug, minting a few more than allowed at the same price. One wallet went hard in the paint and minted 256 NFT's. With the price of STX at $1.81 on December 12th, this user dropped $30,474 minting extra Punks. Sci-fi was never really was my thing, but I've gotta respect the dedication (and financial capabilities!) of the hardcore fans here.
Most of these were purchased back and In short order, the contract was re-written and it is now listed on Byzantion.xyz as Crash Punks v2.
Who Created The Crash Punks Bitcoin NFT Collection?
The artist for Crash Punks is Grace Ng. In addition to CP, Grace has a plethora of successful ventures she is involved in. And, really I don't know what other word to use here other than "plethora." I can barely find time to update a blog around two jobs family and social life. And as if Grace weren't spinning enough plates already, turns out that she was working on this project while going through chemotherapy.
Her accomplishment of creating a centerpiece NFT collection in the Stacks ecosystem while dealing while dealing with adversity absolutely commands respect.
What Was the Mint Price?
The mint price was 64 STX. With the price of STX at $1.81 on December 12, 2021, minting one Crash Punk would have cost around $116 USD.
How Many NFT's are there in this Collection?
That's kind of unclear. There were a reported 10,000 at minting. I'm not sure if some were burned after the change to V2, but there are currently 9,216 NFT's according to Byzantion.xyz. This makes Crash Punks one of the largest Bitcoin NFT collections on Stacks.
What Do Crash Punks NFT's Look Like?
Crash Punks NFT's face toward the viewer's center-right and kind of resemble the lovechild between O-Ren Ishii from Kill Bill and Storm Shadow from G.I. Joe. There are nineteen traits that determine rarity.
Interested in Bitcoin NFT's? Well, you're gonna need some Stacks. You can buy STX on OKCoin, the preferred exchange of the Stacks ecosystem. You can even earn $50 of Bitcoin as a bonus by using this link. And what's better than free money?
What Are the Rarity Attributes of This NFT Collection?
Like I said before, there are 19. In the interest of brevity, I'm going to discuss a few of the most interesting traits and keep it moving.
Background – Of the 14 backgrounds, some have solid colors and others have patterns, like Purple Holo Circuit shown below, or the Matrix background shown above.
Long Hair – Only 3.2% have this trait, in either turquoise, purple or pink.
Back Accessory – Skateboards, light sabers and pizza boxes, with double gold katana the most rare in this category.
Outfit Back – 74% of punks come without this trait, but those that do may be equipped with a trenchcoat, hoodie, jacket or astro suit.
Neck – 11 solid colors variants and "steampunk."
Outfit Front – There are 42 variants, the rarest of these has is inspired by one of my favorite projects that I've covered so far, Stacculents.
"Not your keys, not your coins" has never been more true. A hardware wallet is essential. Keeping your crypto tokens on an exchange exposes your assets to potential loss and theft. Ledger makes accessing your NFT's and your crypto safe and easy.
Find out how easy it is to make sure your coins are kept safe.
Eyegear – Possibilities include sunglasses, visors, goggles Bitcoin eyes.
What is the Rarest Crash Punks Bitcoin NFT
Crash Punks #1006 is the rarest in the set. The traits that set this one apart from the rest include a red beard (0.01%), shaved red hair (0.25%), platinum sunglasses (1.75%) and war paint (1.2%).
Which Crash Punks Bitcoin NFT is the Dopest IHMO?
With 9,216 in the collection, I couldn't possibly look through the entire roster. But of the ones I've seen #190 takes it. From the Matrix background, to his holographic jacket to that Stacks Samurai helmet and the frickin' Earth on his back, this one is absolutely the dopest in the set.
How Far Along Are They on Their Roadmap?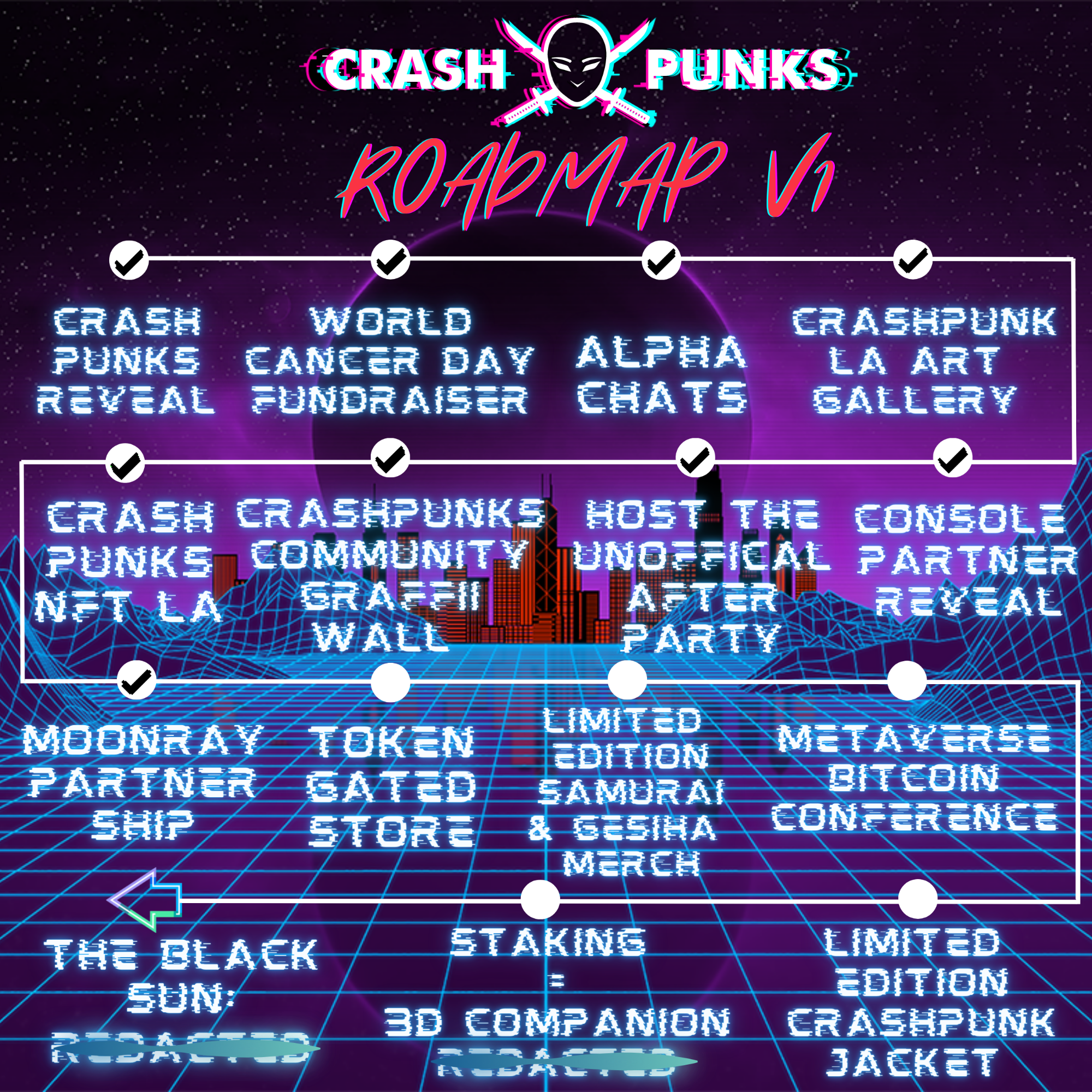 This team has made quite a bit of progress so far. Highlights from the completed objectives include their cancer fundraiser:
They promoted they promoted the project through their Crash Punks graffiti wall at the Bitcoin Unleashed event in Miami.
On June 2nd, Snow Crash author Neal Stephenson took part in a Q&A session with Crash Punks NFT holders through their Discord. This objective appears on the previous version of their roadmap which you can find on their website.
However, the most impactful of all of their objectives is their partnership with the metaverse game, Moonray.
Moonray is an open world metaverse game built on the Ethereum blockchain. You can win tokens and NFT's through combat in MMO (Massive Multiplayer Online) worlds. Opportunities to level up include in-game NFT upgrades and land ownership. CP holders were whitelisted for Moonray NFT's at launch and they will have their own "skins" in the Moonray game. Crash Punks are on the Stacks ecosystem, so you may be wondering how they will transfer to the Ethereum blockchain. If you read my last post on Satoshibles, you may remember that this can be solved through StacksBridge which allows assets to be moved back and forth between Ethereum and Stacks. Crash Punks integration with what looks to be a cutting-edge game in Moonray adds excitement and gives considerable utility to the project.
You've almost made it to the end, but here's a reminder, you're gonna need some Stacks. You can buy STX on OKCoin, the preferred exchange of the Stacks ecosystem. You can even earn $50 of Bitcoin as a bonus by using this link. And what's better than free money? 
Anything Else I Should Know?
Actually, yes. While I was preparing my notes, an announcement was made that will give some community members an opportunity to involve their NFT's in an animated series. Crash Punks: The Animated Series will bring these yet-to-be-minted Punks into fully animated 3D versions. For more details, you can check out the Twitter thread right here.
Also, a huge thanks is necessary to my good friend The Anonymous Chesterfield for his help in guiding me toward some resources that added to this post. If you're interested in the Stacks ecosystem, he knows it quite well and is definitely worth a Twitter follow at the link above.
The Crash Punks Bitcoin NFT Community
There are currently 1,228 owners of the NFT's in this collection. The community has an active Twitter page with over 3,700 followers. Their Discord has a much larger than expected 27,000 members and their main website is right here.
How Much Do Crash Punks NFT's Cost Today?
As of July 7th, 2022, this collection has a current floor price of 99 STX. With STX currently at $0.40, purchasing one floor NFT will cost approximately $39.60 USD.
The Future for this NFT Collection
There are a lot of plusses here. Their social media community, particularly their Discord is quite robust. You've got projects like their animated series to keep the community enthusiastic and engaged. Their collaboration with the Moonray has incredible potential. What better way to enter the Metaverse than through the NFT collection inspired by the very author who coined the term? There's a lot to be excited about here.
Where Can I Purchase Crash Punks NFT's?
Crash Punks Bitcoin NFT's can be purchased at:
Are Crash Punks NFT's a Good Investment?
While none of this is to be construed as financial advice (please see the website disclaimer), anyone who reads this blog or follows my Twitter already knows that I am very bullish on the outlook for Stacks cryptocurrency, the underlying blockchain for Crash Punks Bitcoin NFT's.
NFT's on Stacks are absolutely exploding since their debut in 2021. In addition to their recent listing on Coinbase, the Stacks ecosystem is best represented on OKCoin, where you can get exposure to Stacks, Arkadiko Finance, and CityCoins like MiamiCoin and NYCCoin. Stacks is the protocol that brings d'Apps, NFT's and Ethereum-like utility to Bitcoin. I am a believer that any exposure to Stacks comes with tremendous future upside potential. So, while everyone should do their own research before investing in any NFT or cryptocurrency, I think the future of most NFT projects on Stacks hold considerable promise.
-The Crypto Trend Analyst