Honestly, I was supposed to have this post finished before Halloween. Sometimes life gets in the way. So while the spooky season is over, this collection is still incredibly popular (currently #10 on Gamma) and due a review from me. We're going to break down the Mutant Monkeys NFT collection on Stacks.
What do Mutant Monkeys NFT's look like?
Mutant Monkeys face toward the viewer's right and are meant to resemble an NFT that has been exposed to post-Chernobyl levels of toxic radiation. This is readily apparent as #2889 shows us; with sockets oozing bright green liquid, misshapen teeth and additional sets of eyes where they simply do not belong.
At first these NFT's appear as the immediate offspring of the immensely popular Bitcoin Monkeys NFT collection (here is my review of Bitcoin Monkeys from earlier this year). While Mutant Monkeys may appear as mutated Bitcoin Monkeys, they are actually a separate collection that do not require ownership of the original NFT's. Serum must be minted and subsequently burned in order to produce a Mutant Monkey. Currently there are 4,540 NFT's in this collection, which will top out at 5,000.
Interested in Bitcoin NFT's? Well, you're gonna need some Stacks. You can buy STX on OKCoin, the preferred exchange of the Stacks ecosystem. You can even earn $50 of Bitcoin as a bonus by using this link. And what's better than free money?
The History Behind Mutant Monkeys
Minting for this collection began on February 19, 2022 with a mint price of 45 STX for Mutant Monkey Serum. With the price of Stacks at $1.32 at that time, it cost approximately $59.40 to mint one Serum. The owner can then burn their Serum in the Mutation Chamber to create a Mutant Monkey. Unlike other NFT's, an original Bitcoin Monkey NFT is not required as a "key" to this collection.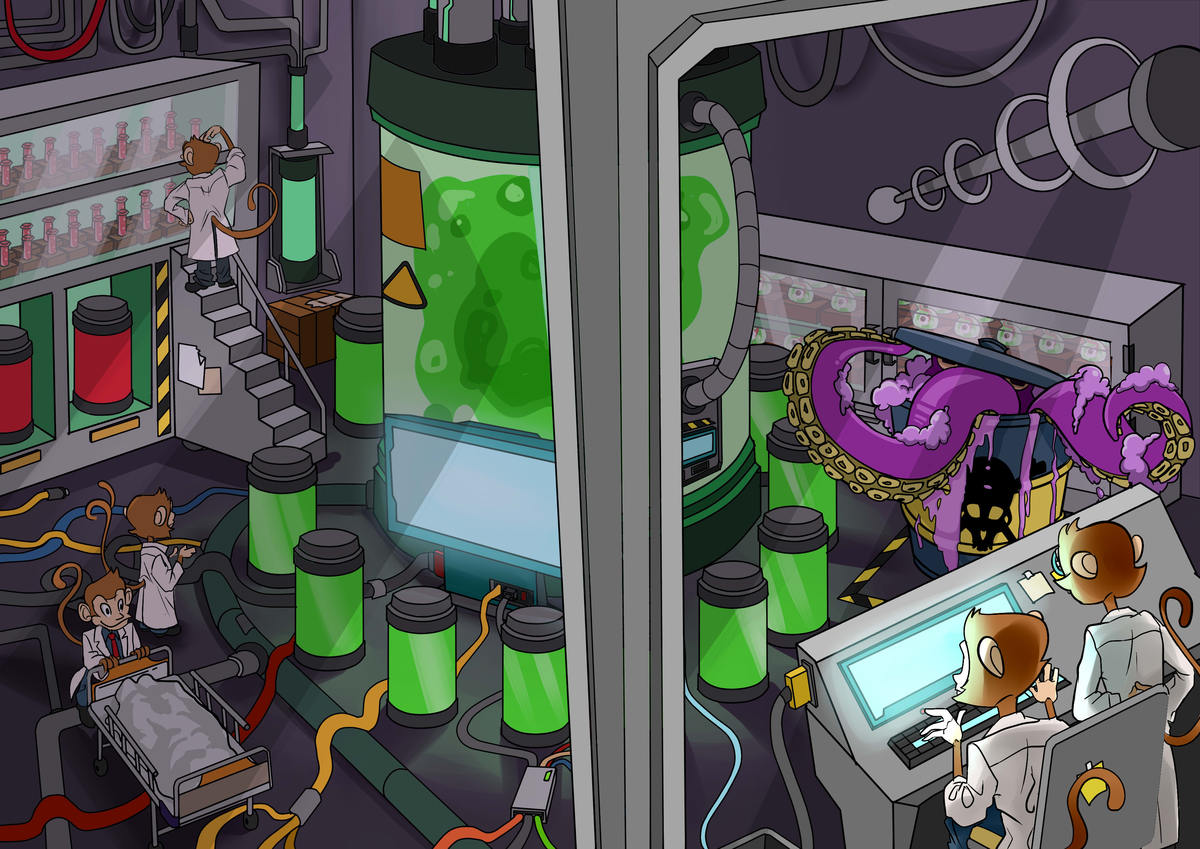 There are 3 types of Serums available. MM1 Serum was available for 45 STX. MM2 Serum can only be acquired by Bitcoin Monkey holders at a price of $500 BANANA at the Monkey Store. $BANANA is the currency of the ecosystem which is generated by staking Bitcoin Monkey NFT's. MM2's are alternate, more richly detailed variations of MM1:
MM3 Serums were randomly distributed in the MM1 mint. These Serums created 1-of-1 "Legendary" Mutant Monkeys. These come with their own unique backgrounds as you can see with MM3:
What are the Rarity Attributes of this NFT Collection?
There are six attributes, with each one further differentiated by the Serum class (MM1, MM2, MM3).
Eyes – 14 possibilities for MM1 and MM2.
Background – These are primarily flat colors save for 'Space' (seen above) 'Toxic' and 'Rainbow.' No difference in this between the MM1 and MM2 variants.
Mouth – There are several options here, including bananas, pizza, pipes and cigarettes. The team of artists have outdone themselves as the variants appear exposed to radiation as well. The pizza appears blackened, the 'party horn' is a cobra and the bananas are green and diseased.
"Not your keys, not your coins" has never been more true. A hardware wallet is essential. Keeping your crypto tokens on an exchange exposes your assets to potential loss and theft. Ledger makes accessing your NFT's and your crypto safe and easy.
Find out how easy it is to make sure your coins are kept safe.
Fur – Around a dozen options here, including "Rainbow," "Leopard," and Zombie
Clothes – All possibilities are around 1% – 5% for MM1 so there isn't a single variant that makes this one ultra rare.
What is the Rarest Mutant Monkeys NFT?
Technically, each of the MM3's are 1-of-1. There are 10 of MM3's and the one rated most rare on Gamma.io is #607, the Alien Monkey.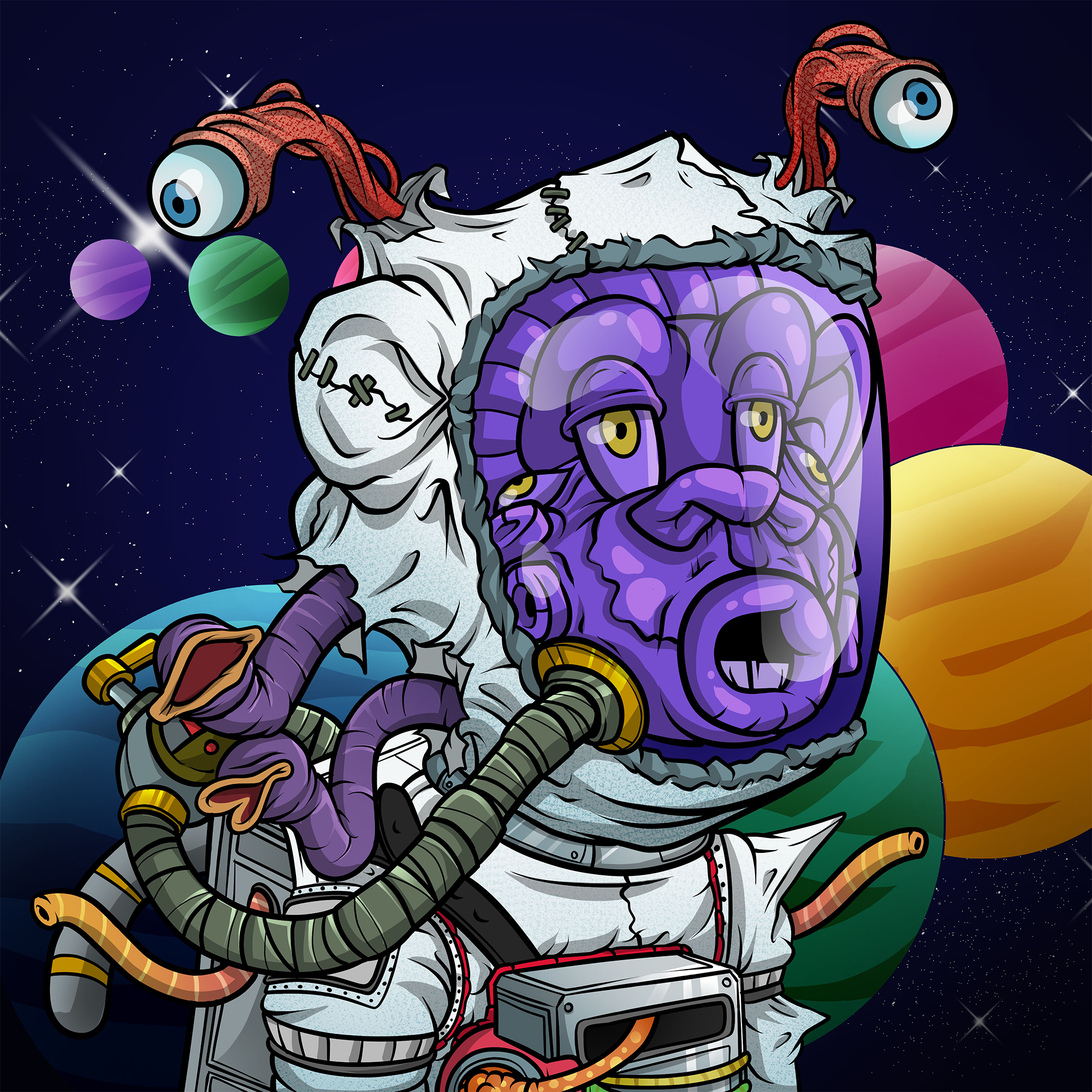 Which Mutant Monkey NFT is the Dopest IMHO?
That would have to be #1700 the Dragon Monkey. While I'm not a DragonBall Z fan, this image appears to invoke elements from DZ. Intense artwork here, from the focused, hateful stare, to the detail of the bared teeth and taut pectorals. This image just exudes badassery on all levels.
Interested in Bitcoin NFT's? Well, you're gonna need some Stacks. You can buy STX on OKCoin, the preferred exchange of the Stacks ecosystem. You can even earn $50 of Bitcoin as a bonus by using this link. And what's better than free money?
How Far Are They On Their Roadmap?
As incredible as the artwork is in this collection, their greatest strength is in the team's ability to execute their plan. Perhaps more than any other project on Stacks, these guys attack their roadmap hard. They have created an impressive experience for holders. This is readily apparent to anyone who visits their website. On the front page, they are currently running a World Cup contest for holders with up to 15,000 STX in prizes. The top bar is a clean layout of the rest of the site. If there was a Mount Rushmore for Stacks NFT's, Bitcoin Monkeys has to be on there, no questions asked.
Full Disclosure: I don't even own any of these NFT's yet! I've never been contacted by the team either. However, I've studied dozens of Bitcoin NFT collections and these guys have earned my entirely unsolicited praise.
Does This Project Have Any Utility?
While Bitcoin Monkeys can be staked for $BANANA, Mutant Monkeys can be staked for $SLIME, which can be used to "Level Up" their token in the Slime Lab. Slime components can also be purchased on Gamma.io and Tradeport.xyz. $SLIME may have a future use with "Meta Monkeys" on Ethereum. According to the Bitcoin Monkeys Whitepaper, they have already purchased land in the Sandbox Metaverse where they are building Monkey Island. $SLIME may be used to make purchases in Sandbox. Similar to owning a Bitcoin Monkey, a Mutant Monkey may well be an avenue of entry into the Metaverse.
How Much Do Mutant Monkeys Cost Today?
The floor for this collection is currently 65 STX. As of November 6th, 2022 with the price at $0.31, you're looking at just over $20 to pick up a Mutant Monkey.
What is the Future For This NFT Collection?
I'm going to go out on a limb and say it's destined to be pretty awesome. You've got a thriving ecosystem and community, a top shelf user experience and potential for Metaverse entry.
Where Can I Buy Mutant Monkeys Bitcoin NFT's?
These Bitcoin NFT's can be purchased at:
Are Mutant Monkeys NFT's a Good Investment?
While none of this is to be construed as financial advice (please see the website disclaimer), anyone who reads this blog or follows my Twitter already knows that I am very bullish on the outlook for Stacks cryptocurrency, the underlying blockchain for all Bitcoin NFT's.
NFT's on Stacks are absolutely exploding since their debut in 2021. In addition to their recent listing on Coinbase, the Stacks ecosystem is best represented on OKCoin, where you can get exposure to Stacks, Arkadiko Finance, and CityCoins like MiamiCoin and NYCCoin. Stacks is the protocol that brings d'Apps, NFT's and Ethereum-like utility to Bitcoin. I am a believer that any exposure to Stacks comes with tremendous future upside potential. So, while everyone should do their own research before investing in any NFT or cryptocurrency, I think the future of most NFT projects on Stacks hold considerable promise.
OK, I appreciate you reading this far.
If you learned something from this post, you can see the rest of my reviews of the phenomenal NFT collections on Stacks, right here: