NFT's have been minting memorable pieces of digital art as well as several new millionaires over the last year. While this sector has been completely dominated by the Ethereum blockchain, it is about to face some stiff competition from a new sheriff in town. Stacks NFT art has arrived and it is secured by Bitcoin.
And the 'new boss' in the game really is the 'old boss,' as the world's first crypto currency, Bitcoin, is primed to become a huge player in the NFT game. Ethereum dominated the first chapter of mainstream NFT history. However, it wasn't without serious shortcomings, notably the gas fees from ETH (Ether, the native token) that added a massive tax to many purchases. While Solana and Polygon have cornered their share of the market, Bitcoin was a non-factor as it wasn't "programmable" like Ethereum. Well, that is, until Stacks (STX) changed the game.
Stacks NFT Art is Secured by Bitcoin Blockchain
Stacks transforms Bitcoin from a store of value into a platform for so much more. From Stacks website: Stacks connects to Bitcoin, enabling you to build apps, smart contracts, and digital assets that are integrated with Bitcoin's security, capital, and network. That means that the Bitcoin blockchain, in concert with Stacks, now has similar capabilities to Ethereum, Solana and Polygon. As an added bonus, users will not be hit with gas fees that can range from painful to mind-bendingly ludicrous.
Let's take a look at some of the more attractive Stacks NFT Art collections:
Space Whales
(Current Floor Price: 100 STX)
Incredibly creative. Star Trek meets Jacques Cousteau. If you've ever wondered what a Klingon-type spaceship carrying a Humpback whale with a pulsar cannon would look like, boy are you in luck! This incredible project on STXNFT.com has amazing detail and should garner a following from the name alone. Space Whales? I mean, just the sound of that inspires curiosity. The images are sharp, colorful and memorable.
Stacks Punks
Current Floor Price 69 STX. Recently Sold, 80, 95, 100, 150 STX.
I've written a step-by-step tutorial of how to buy Stacks Punks, so I'm partial to them of course. I currently own the avatar for our Twitter profile and another one that looks like Mr. T circa 1985. These were my first NFT purchases and I still have them. When I acquired them last week, the floor price was at 55 STX and it's risen to 70 this week. There are multiple punk attributes to select from including welding goggles, chokers, 3D glasses and hoodies. I picked up a few with mohawks, because really, what's a punk without a mohawk?
Bitcoin Birds
Current Floor Price: 1200 STX. Recently Sold: 1200, 1220, 1349, 1488 STX.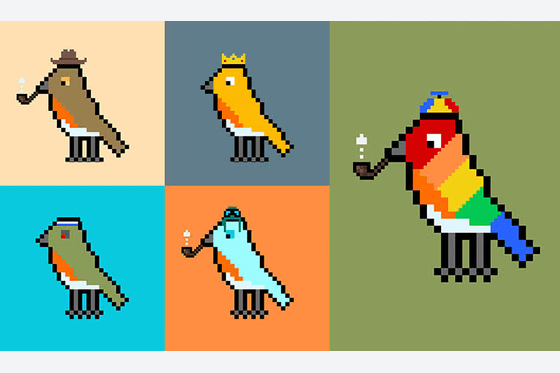 This collection, created by a 12-year old wildlife enthusiast, has quickly generated a lot of interest. Minted for a little over $26 each, the young artist walked off with around $8000 for his efforts. However, he should have used that money to buy some for himself as demand has pushed the floor for one of these pixelated images to 1200 STX ($2592 USD). Overall NFT volume has been driving the increase in the price of Stacks and Bitcoin Birds has been an enormous part of that volume so far. It is now the most transacted NFT on Stacks with over 16,000 STX in trading volume in one day last Thursday. Attributes include different caps, helmets and hats, background color and of course the color of the bird itself.
Stacks Pops
Floor price: 4 STX Recently Sold: 9, 8, 4.6, 100 STX
For everyone who complains that NFT's are too expensive to attain at a beginner level and that Ethereum gas fees are prohibitive, I present to you, Stacks Pops. These ice cream inspired NFT's have a floor price of 4 STX (currently < $10USD). Anyone can get into the NFT game for less than a Hamilton. And these look fun, with the base topping and stick being the primary attributes. Anyone who wants to introduce their kids to NFT's has a colorful and currently inexpensive option to do so.
ByteFighters
Current Floor: 40 STX Recently Sold: 40, 54, 999, 41 STX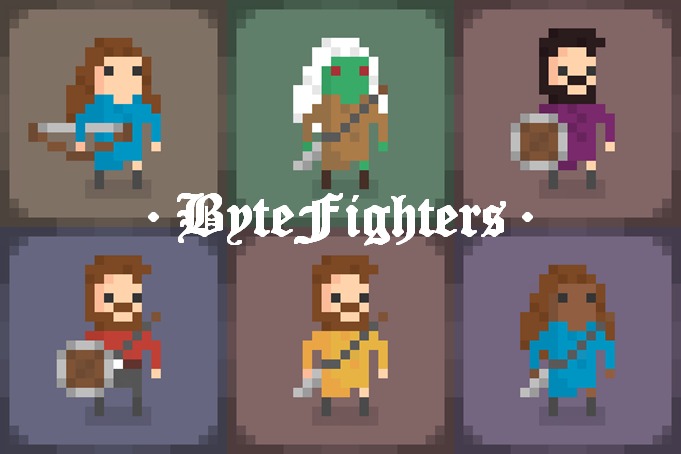 Let me "axe" you a question… Do you tend to get overly excited over Renaissance Fairs? Well then you're probably going to love these very Legend of Zelda-y looking NFT's. While the current floor is easily affordable (40 STX), don't be fooled… an alien ByteFighter recently sold for 10,000 STX (currently ~21,600 USD)! In fact, ByteFighters with the alien attribute currently dominate the upper end of the market. Other attributes include tunic (clothing) color, boot color, weapons, hair color and background.
Phases of Satoshi
Current Floor Price: 3000 STX – Recently Sold: 3333, 3000, 1500, 1099 STX
Since the real Satoshi Nakamoto (the founder of Bitcoin) is unknown, this Stacks art NFT collection attempts to put a face on the anonymous legend. These NFT's are anchored by the very blockchain he created. Since his likeness is unknown, Phases of Satoshi offers several variants of age, gender and race that may mimic Satoshi Nakamoto's real life features. The floor for these is currently 3000 STX (around $6400 USD) so be prepared to part with some Stacks and perhaps miss the next Bitcoin stacking cycle for the privilege of owning one of these.
Stacks Scrabble
Mint Date: October 13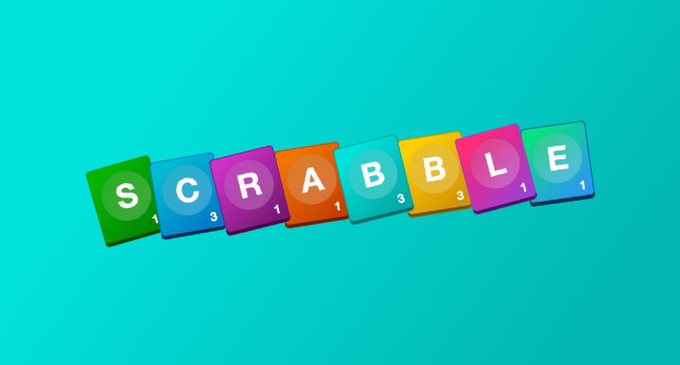 This one really intrigues me. Like a lot. For a few reasons. We all likely remember the immense popularity of Words With Friends app back in the early 2010's. Well, what happens when that same concept becomes a Stacks Art NFT? I mean, how does this not take off. But, and perhaps this is my own newness to the whole concept, I don't understand exactly how this will play out. I understand that certain tokens will have more rarity (I'm guessing like K, Z and Q) and that you can stake the tokens to upgrade them and make them more valuable. But will you actually play Scrabble? Or are you able to arrange the tiles into words and show them off? We will all soon find out because the minting date is tomorrow, October 13, 2021. Unfortunately, I will miss the opportunity to participate in minting Stacks Scrabble, as I am going to be at work and unable to use my laptop to log in to my wallet, something that I am not happy about. Stacks Scrabble has piqued my curiosity and unfortunately I will have to wait until after minting to find out more.
Stacks NFT Art is Coming in HOT
Stacks NFT art has a ton of potential. Interest since last week, as evidenced from the rise of Bitcoin Birds to the rise in the price of Stacks, has skyrocketed. Since Stacks has garnered more attention (and investment capital) lately, we should continue to see increasing visibility in these NFT collections over the next several months. While this isn't financial advice (nothing on this blog is, please see our Disclaimer ) I am personally going to load up on some more Stacks NFT's.
Did you learn something new about Stacks NFT Art from this blog? If so, please click this link to share us on Twitter!
If you enjoyed this article, subscribe to our weekly crypto news roundup. It's free and when you do, you'll receive a copy of our eBook 9 Unusual Ways You Can Make Money With Crypto (But Can't With Cash)
-The Crypto Trend Analyst Team