Here we go with part 17 of my series reviewing Bitcoin NFT Projects built on Stacks. We're going to look at one of the most affordable projects out there. I'm gonna be your Ice Cream Man as I detail the popsicle-inspired, Stacks Pops. You can check out the first 15 NFT reviews in the series, right here:
.
Usually I start off with the history of each project. I'm going to hold off on that for a few to make a very important point.
Stacks Pops – A Low Barrier of Entry into the Bitcoin NFT Space
Many have been scared out of the NFT space by the plunging asset prices in 2022. It's not just the Stacks ecosystem. Even the top-shelf collections on Ethereum have taken an awful hit over the past several months.
Many new potential NFT enthusiasts have been hesitant to make their first move. Let it be noted that one of the very best collections for someone to get their first exposure to Bitcoin NFT's is Stacks Pops.
Right now the floor price for one of these is 5 STX. That means with the current price of Stacks, you can get in the NFT game today for a $USD price of…
***adjusts glasses***
***rubs eyes***
***shakes head vigorously***
$1.80!!!
If the project were to go to absolute $0 after you purchased one Stacks Pops NFT today, you'd be out a half a tank of gas in 2022 America.
Stacks Pops are an excellent on-ramp into the world of NFT's for children. Likewise, any adult can easily jump in and start to learn the ropes. If you haven't gotten in the non-fungible game on Stacks quite yet, this collection is as good a starting point as any.
Okay, let's get back to the review.
The History of Stacks Pops
Stacks Pops minting began on September 18, 2021. There was no whitelist or pre-sale. The entire 10,000 NFT collection by @axopoa.btc was minted in twelve days.
What Was the Mint Price?
The mint price was 10 STX, of which 2 STX was alloted to the minting platform (Stacks Art) and the rest to the artist.
How Many Stacks Pops NFT's are there in this Collection?
There are 10,000 Stacks Pops NFT's, making this one of the largest collections secured by Bitcoin.
What Do Stacks Pops NFT's Look Like?
Stacks Pops are meant to invoke the imagery of a partially-eaten ice cream on a stick. Images are centered with one bite taken out of each pop. Even with the clean and simple design of the images, there are five attributes that contribute to rarity.
What Are the Rarity Attributes of This NFT Collection?
They're actually exactly what choices you'd see in an ice cream IRL:
Base – This is the primary outside layer, with the color violet as its most rare option (0.21%).
Topping – My preference IRL is the Good Humor Chocolate Eclair topped with nuts. As for the rarest topping in the world of Stacks Pops, it's the Bitcoin topping. Only a very select 2 out of 10,000 have it.
Stick – Approximately 97% are different shades of your usual wooden stick. The more unique versions have broken or "Limed" wood.
Interested in Bitcoin NFT's? Well, you're gonna need some Stacks. You can buy STX on OKCoin, the preferred exchange of the Stacks ecosystem. You can even earn $50 of Bitcoin as a bonus by using this link. And what's better than free money?
Free Bitcoin!
Stick Details – Most of the sticks have designs that contribute to rarity as well. More commonly, you'll find the Moon and the Stacks logo. A weed image on the stick is one of the most rare in this set.
Eaten – "It's what's inside that counts." The go-to rationalization platitude for plus-sized women everywhere is one of the factors contributing to rarity in Stacks Pops. Bite marks on the left or right reveal the pop's inside flavor. With approximately 39 options here, you'll rarely encounter an uneaten pop. In fact, "Not Eaten" is one of the most unique traits in this subset (0.67%).
A commonly used rarity factor for most Bitcoin NFT collections on Stacks is notably missing here, Background. Each Stacks Pops NFT has pretty much the same background; orange creamsicle colored with a (Splash? Splotch? Sploosh?) of ice cream splattered toward the lower left corner of the image border.
What is the Rarest Stacks Pops Bitcoin NFT?
That would be Stacks Pops #5358 with the orange base, and the 1 in 10,000 "Blue Moon Cap."
Which Stacks Pops Bitcoin NFT is the Dopest IHMO?
Yes, I love the pops with the Stacks logo. But since we're reaching back to my childhood anyway, get me #9618, the one with the Ghost base and the broken stick with the Stacks logo.
Why Ghosts? Cause Pac-Man, that's why. Days spent with swimming, friends, ice cream followed by Pac-Man tournaments were the best. That is, until I completely blew out my corneas playing said video games, but hey, I lived.
"Not your keys, not your coins" has never been more true. A hardware wallet is essential. Keeping your crypto tokens on an exchange exposes your assets to potential loss and theft. Ledger makes accessing your NFT's and your crypto safe and easy.
Find out how easy it is to make sure your coins are kept safe.
How Far Along Are They on Their Roadmap?
I could not find a designated road map on the Stacks Pops website or on their Twitter account. However, in the process I discovered that this project was one of the first NFT's to initiate native token staking in the Stacks ecosystem.
What Utility Does This Project Have?
Since earlier this year, holders are able to stake their NFT's for the $ICE token, which is the native currency in the Stacks Pops ecosystem. Although the "utility" seems to be lacking right now. I don't see a store set up to exchange $ICE for merchandise or to use toward a new collection yet. While there is a dice game (labeled "Experimental") set up for betting with $ICE, I have yet to see evidence of real utility yet.
However, this project does have some real innovative staking techniques that reward long-term participants in the staking ecosystem through their "$ICE Machine."
What is the Stacks Pops ICE Machine?
You can stake your Stacks Pops NFT's by putting them in the "Ice Machine." You need to put in a minimum of 3 pops for at least a month. While they are in the Ice Machine, you earn $ICE, which is collected when you remove your pops.
Seems like a pretty straightforward staking protocol. However, the $ICE Machine has been working for months, giving them a head start over many other Bitcoin NFT collections. Even better, they added a genius wrinkle to their staking concept, the "Heat Wave."
What Happens During a Heat Wave?
Anyone who holds a Stacks Pops can send a "Heat Wave" to another wallet, melting their $ICE. The targeted wallet must be inactive for over one year. The Heat Wave will melt 4% of the $ICE, which heads back to the $ICE Machine. As a reward, the "attacker" gets 1% of the $ICE from the targeted wallet. This is an incredibly innovative way to encourage long-term participation in the ecosystem. They've provided a handy diagram of how this all works right here: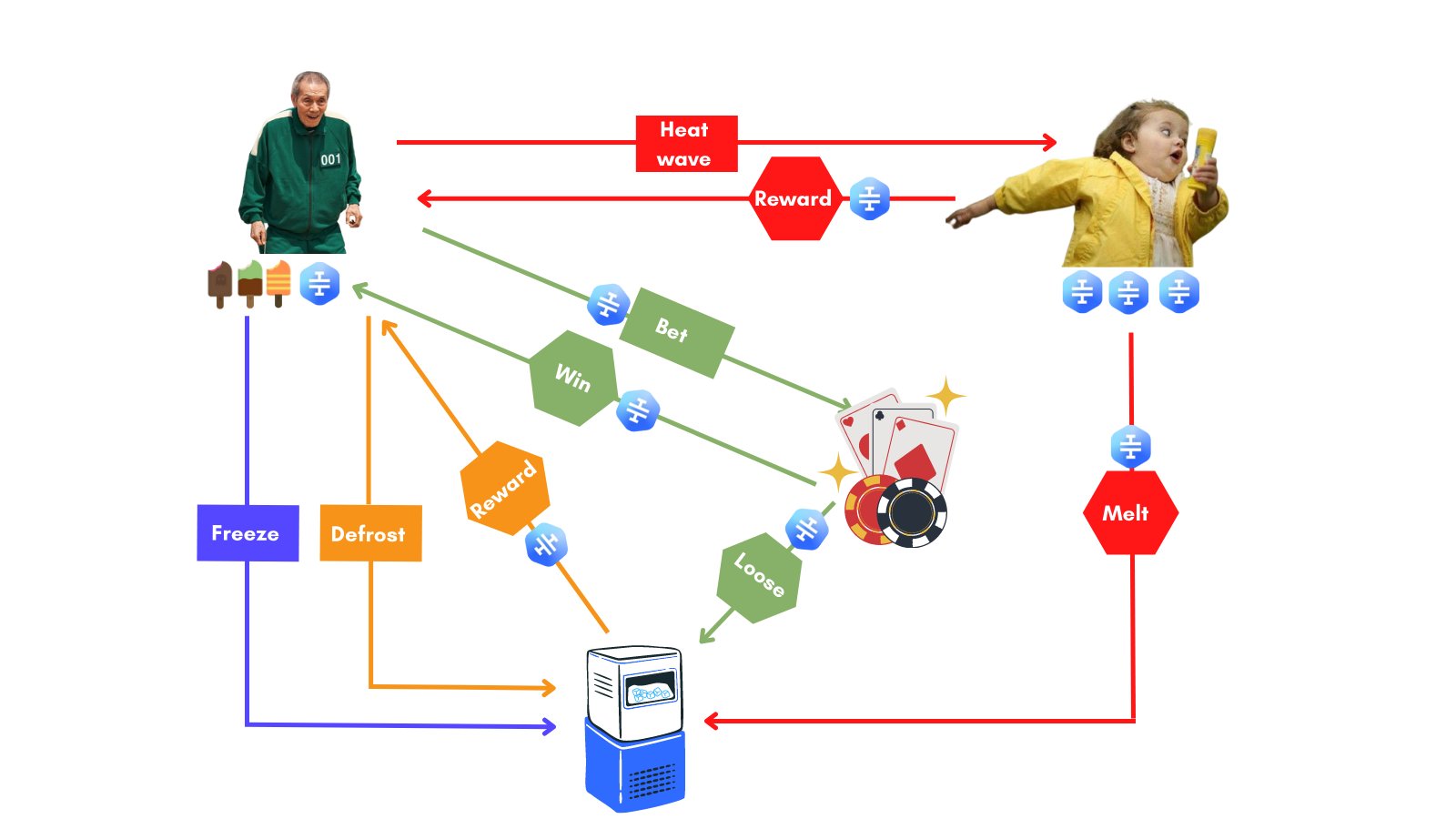 The Stacks Pops Bitcoin NFT Community
Currently there are 777 holders of the 10,000 NFT's in this collection. However, the project is lacking a community as far as I can tell. Their website seems up-to-date, however there is no Discord. Stacks Pops has a Twitter account, but nothing has been posted to its timeline since May.
How Much Do Stacks Pops NFT's Cost Today?
As of today, August 28, 2022, with the current price of Stacks at $0.38 and a floor price of 5 STX, you can purchase this NFT for $1.80.
The Future for this NFT Collection
Most of the time a project's impact is measured by the strength of its community. Thriving NFT communities are extremely difficult to grow and maintain in this environment and this project is lacking in that aspect. However, as I have mentioned before, Stacks Pops (along with Stacculents and Funky Donuts) is absolutely one of the must-have Bitcoin NFT's if you are just starting in the Stacks system due to its low barrier of entry. You can get experience purchasing and staking an NFT while learning the dynamics of the space for under $10! That is incredible. Stacks Pops also are an excellent "first NFT" choice for children as well. That alone should prop up demand for this collection until the market bounces back.
Where Can I Purchase Stacks Pops NFT's?
Stacks Pops NFT's can be purchased at:
Are Stacks Pops NFT's a Good Investment?
While none of this is to be construed as financial advice (please see the website disclaimer), anyone who reads this blog or follows my Twitter already knows that I am very bullish on the outlook for Stacks cryptocurrency, the underlying blockchain for Stacks Pops Bitcoin NFT's.
NFT's on Stacks are absolutely exploding since their debut in 2021. In addition to their recent listing on Coinbase, the Stacks ecosystem is best represented on OKCoin, where you can get exposure to Stacks, Arkadiko Finance, and CityCoins like MiamiCoin and NYCCoin. Stacks is the protocol that brings d'Apps, NFT's and Ethereum-like utility to Bitcoin. I am a believer that any exposure to Stacks comes with tremendous future upside potential. So, while everyone should do their own research before investing in any NFT or cryptocurrency, I think the future of most NFT projects on Stacks hold considerable promise.
-The Crypto Trend Analyst