On to Part 2 of my series reviewing Bitcoin NFT Projects built on the Stacks ecosystem that interest me the most. Part 1 of this series was a review of Bitcoin Birds. Today, we will cover the Jules Verne inspired NFT collection, "The Explorer Guild."
The History of The Explorer Guild Collection
The Explorer Guild is a series of 10,000 NFT's with a clear nod to the legendary science-fiction author, Jules Verne. Each of the NFT's appear to be derived from this image of Verne. In these NFT's the author has been reimagined with an assortment of skin tones, hairstyles and visual accessories.
Who Created The Explorer Guild Collection?
There is a team of three creators given credit for this project, the illustrator, Quentin Saubadu and the co-founders of Sigle.io, an open-source writing platform, Arturs Kirtovskis and Leo Pradel. Sigle is the foundation for the utility behind Explorer Guild NFT's.
Interested in Bitcoin NFT's? Well, you're gonna need some Stacks. You can buy STX on OKCoin, the preferred exchange of the Stacks ecosystem. You can even earn $50 of Bitcoin as a bonus by using this link. And what's better than free money?
What Was the Mint Price?
Mint price for this project was set at 100 Stacks (STX). With a November 3 price at $1.96, the cost of minting an Explorer Guild NFT was approximately $196 USD. With the drop in crypto prices since November, less rare versions have not held their value in terms of USD. Fortunately for holders of this collection there is quite a bit of potential utility with this particular NFT, which I will cover later on.
How Many NFT's Are There In The Collection?
There are currently 3,000 in this collection available, but this comes with a caveat. On November 3rd, there were 10,000 Explorer Guild NFT's in existence. Shortly after launch, an on-chain vote regarding the fate of 7,497 Explorer's was conducted.
"Hodlers" voted to keep the 10,000 NFT's with 2,500 to be released following milestones for Sigle and Stacks over the coming years.
"Arsonists" voted to burn 7,000 of the remaining NFT's, leaving only 3,000. The upside here was that this would increase the scarcity of the project considerably, providing more value for those who invested in the project early. The 497 Explorers still available were to be distributed to Medium and Substack writers to increase the project's visibility. The 7,000 burned Explorers would be displayed in a "Ghost Museum" at a future date, although they would remain permanently unavailable for purchase.
Arsonists outnumbered the Hodlers 736 to 103 and the burn was implemented.
What Do The Explorer Guild NFT's Look Like?
Each Explorer appear to closely mimic Jules Verne, the groundbreaking author who predicted what submarines would look like in his epic work, 20,000 Leagues Under the Sea. Explorers face to the right have a multitude of different attributes that contribute to rarity and make many rather unique looking even within the context of the collection.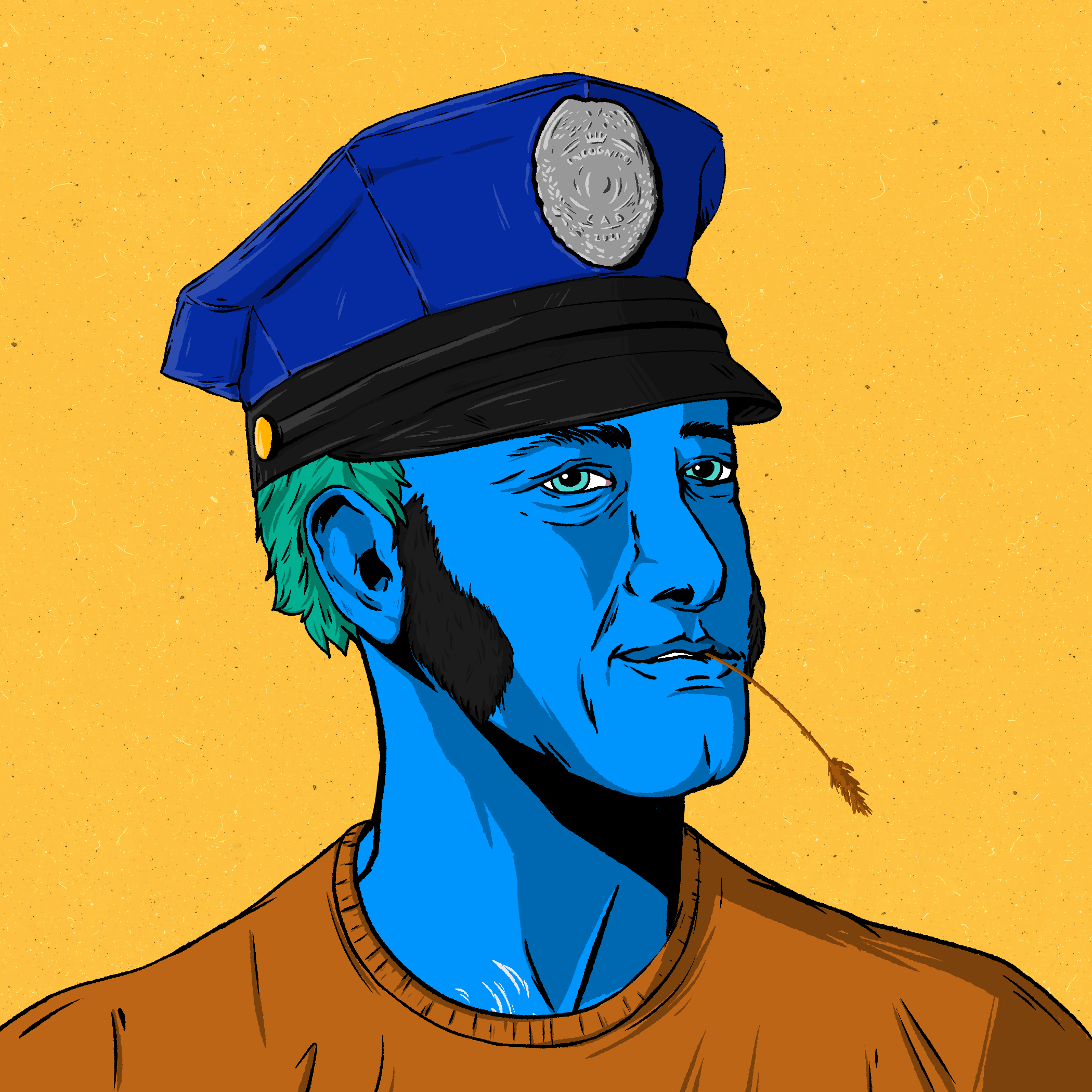 "Not your keys, not your coins" has never been more true. A hardware wallet is essential. Keeping your crypto tokens on an exchange exposes your assets to potential loss and theft. Ledger makes accessing your NFT's and your crypto safe and easy.
Find out how easy it is to make sure your coins are kept safe.
What Are the Rarity Attributes of The Explorer Guild NFT's?
Where a collection like Bitcoin Birds are primarily differentiated through the color schemes and background with few add-ons, each Explorer may have multiple traits which determine rarity and make most distinct from others in the collection. Here is a partial list:
Backgrounds- all different solid colors, save for the rarest, the Miami background.
Skins – Ever wondered what Jules Verne would look like as a mummy, alien, or cyborg? They've got you covered!
Hats – Options include a top hat, which Verne wore IRL. Saubadau has also imagined him in submarine gear as well as bunny caps, turbans and one of those Robin Hood caps (apparently this is called a tyrolean, who knew!) which is the most rare in that trait.
Piercings- Eyebrow rings, nose rings and even ear plugs, with the STX earplug as the rarest of this trait subset.
"Specials"- Including neck tats and teardrops.
Lasers – Green, purple and red (only 3.5% have this attribute).
Makeup – (Joker-style is the rarest, only 2.77%).
Face Accessories – Including those olde-timey bird looking doctor masks, Lucho Libre style wrestling masks, etc.
Mouth– popping gum, "censored" mask, etc.
Hair – everything from mohawks to afros.
The combinations of attributes bring a whole new dimension to the work. The rarest of these is the on the STX NFT Marketplace is a mummy skin version, #1319.
This NFT is not for sale at this time.
Now, it is important to note that the rarity of these attributes is taken from the 3,000 that have been currently minted. The 7,000 burned explorers are not counted in those attribute percentages. Now, you may be wondering, where exactly did those "burned explorers" go?
What is the Burned Explorer Museum?
It would be pretty cool to check out what all of those explorers actually looked like. Well, as of today, March 16, 2022, you can view them in the Burned Explorer Museum. The 'museum' is an interactive 3D virtual gallery where you can view the images up close.
You can position your avatar in front of each image. When you do, it will give you information on the Explorer, including his ID#, rarity and attributes. The rarity of any of the Explorers in the museum is ranked only against the other burned Explorers.
As soft ambient music plays in the background, the user can play a game where, upon completion of the tasks, a secret link is revealed. Explorer images are rotated every seven minutes. Even though I am not particularly a Jules Verne / science fiction / steampunk kinda guy, the Burned Explorer Museum was a fascinating experience.
Additionally, Explorer Guild NFT owners will be able to display all of their Stacks NFT's listed on their Hiro wallets through the Burned Explorer Museum:
Even though I don't currently own an Explorer, I found navigating through the museum and inspecting the NFT's an intriguing experience. The ability to display your own NFT's through your own section of the Burned Explorer Museum sounds pretty dope and is an an additional bonus to NFT ownership.
How Far Along Are They on Their Project Roadmap?
After completion of minting in early November, their second objective on their roadmap was to create the Burned Explorer Museum. This objective was completed on March 16, 2022. The third objective is for female explorers to unite with current explorers. My best guess is that this will be an additional NFT collection.
Objective #4 is an Explorer Writing Camp, which will bring them together to commemorate the release of the Sigle.io creator plan and their free pass to the plan.
Next up is the Explorer Guild Bazaar with merchandise drops like 'dad hats' and hoodies. The sixth objective is a Treasure Hunt… "where all of the explorers will be chased by crocodiles…" Even though this won't happen for some time, to a former Pitfall! junkie this sounds like a lot of fun. This also hints at possible gamification for the Explorer NFT. The final step is an Explorer Guild Summit.
What Utility Do Explorer Guild NFT's Have?
This is where the Explorer project takes on a tremendous amount of depth. Let's set aside the possibility of gamification of this project (and the crocodiles!) and look at the future utility through Sigle.
By releasing the Explorer Guild NFT collection on Stacks, Sigle bypassed the need for traditional financing.
In return NFT owners gain free access in the future to Sigle's paid writing platform, including a programmable newsletter, custom domain and advanced analytics. Through the Sigle platform, writers will be able to get paid in Bitcoin. Subscribers will be able to pay them in Bitcoin through a subscription model and also through an innovative method involving Stacks cryptocurrency. Since stacking $STX yields Bitcoin, Sigle will make it possible for Stacks holders to subscribe without "paying" at all. By locking up their Stacks for a defined period of time and allowing the writer to receive the $BTC yield, the subscriber essentially be able to read the author's writing for free.
Interested in Bitcoin NFT's? Well, you're gonna need some Stacks. You can buy STX on OKCoin, the preferred exchange of the Stacks ecosystem. You can even earn $50 of Bitcoin as a bonus by using this link. And what's better than free money?
The Explorer Guild NFT Community
There are currently 998 owners of the 3,000 NFT's in this collection. The community has an active Twitter page with 3,856 followers. Their Discord server has 5,036 members and information is continually updated through ExplorerGuild.io. Although I would like to see more follower engagement overall, there has been a considerable uptick with the rollout of the Burned Explorer Museum.
Random appreciation posts are a solid indicator of an engaged community as well.
How Much Do The Explorer Guild NFT's Cost Today?
As of today, March 19, 2022, the floor price for The Explorer Guild NFT's is 75 STX. With a mint price at $196 USD, anyone who minted at that price would have a negative return if they managed to sell it at today's floor price. However, future access to Sigle's app, gives holders significant potential value to owning this NFT.
The Future for This Collection
While the Explorer Guild has built a solid community, much of this hinges on the ability of Sigle to deliver on their considerable promise. Given the outcome of the latest completed objective on their roadmap, the Burned Explorer Museum, The Explorer Guild NFT owners have every reason to believe that they will deliver excellence.
Where Can I Purchase Explorer Guild NFT's?
The Explorer Guild NFT's can be purchased at
Are Explorer Guild NFT's a Good Investment?
While none of this is to be construed as financial advice (please see the website disclaimer), anyone who reads this blog or follows my Twitter already knows that I am very bullish on the outlook for Stacks cryptocurrency, the underlying blockchain for The Explorer Guild.
NFT's on Stacks are absolutely exploding over the last several months. In addition to their recent listing on Coinbase, the Stacks ecosystem is best represented on OKCoin, where you can get exposure to Stacks, Arkadiko Finance, and CityCoins like MiamiCoin and NYCCoin. After this week's news regarding Bitcoin Odyssey, the future has never looked brighter for the protocol that brings d'Apps and Ethereum-like utility to Bitcoin. I am a believer that any exposure to Stacks comes with tremendous upside potential. So, while everyone should do their own research before investing in any NFT or cryptocurrency, I think the future of most NFT projects on Stacks hold considerable promise.
-The Crypto Trend Analyst