Time for Part 6 of my series reviewing Bitcoin NFT Projects built on Stacks. Today, I'm going in tiger-style as we take a closer look at the Tiger Force Bitcoin NFT Collection on Stacks. You can find the first five entries in my series, right here:
The History of the Tiger Force NFT Collection
The first Twitter announcement of this animated NFT collection was made on December 18, 2021.
The first visual representation of the NFT was seen on Twitter the next day and it was pretty dope.
If you haven't noticed yet, there was no mention of Stacks at all in those tweets. This collection was originally slated to be built on Solana. However, after learning about the innovation behind Stacks, the project shifted course.
Tiger Force is the first global comic Bitcoin NFT project built on Stacks.
Interested in Bitcoin NFT's? Well, you're gonna need some Stacks. You can buy STX on OKCoin, the preferred exchange of the Stacks ecosystem. You can even earn $50 of Bitcoin as a bonus by using this link. And what's better than free money?
Who Created The Tiger Force Bitcoin NFT Collection?
The artist behind Tiger Force is Baha.btc. This appears to be his first endeavor into NFT's.
What Was the Mint Price?
Pre-sale was Febraury 26, 2022 (45 STX) and the collection was made available to the public on February 27th (50 STX). With the price of Stacks at $1.25 on February 27th, it would have cost approximately $62.50 to mint one Tiger Force NFT. Additionally, you could purchase these NFT's with Stacks or with CityCoins. The project proved immensely popular at mint, selling out in minutes.
How Many NFT's are there in this Collection?
There are 2000 Tiger Force NFT's in the collection.
What Do Tiger Force NFT's Look Like?
.
Tiger Force NFT's face center right from the viewer's perspective. Each has their right paw in their pocket and their left paw with palm facing up. They are distinguished by a series of expressions, backgrounds, costumes and accessories that contribute to overall rarity.
What Are the Rarity Attributes of Tiger Force NFT's?
The list of rarity attributes include:
Background – most will be gradient backgrounds with 30+ individualized.
Skin – 91% will be black, brown, base, white or cream.
Eyes – "bored" base, sleepy or sad will account for 95% of this trait.
Clothing – too much to list here. They've got tuxedos, basketball jerseys and everything in between.
"Not your keys, not your coins" has never been more true. A hardware wallet is essential. Keeping your crypto tokens on an exchange exposes your assets to potential loss and theft. Ledger makes accessing your NFT's and your crypto safe and easy.
Find out how easy it is to make sure your coins are kept safe.
Eyewear – Approximately 25% of these Bitcoin NFT's will have sunglasses, eye patches, 3D glasses, etc.
Mouth – Traits like smiling, eating, roaring, and smoking.
Pets – Parrots, monkeys, snakes and even a Bitcoin Badger.
Headwear – Honestly, a lot. Caps, bandanas, turbans, etc.
What is the Rarest Tiger Force Bitcoin NFT?
Tiger Force #1101 is listed as the most rare in this entire collection.
Which Tiger Force Bitcoin NFT is the Dopest IHMO?
That would be #22, with the Explorer Guild attributes. Love the background and how it matches his jacket and mohawk. Dagger in the mouth is a nice touch as well. By far the most attractive NFT in the set.
How Far Along Are They on Their Roadmap?
Tiger Force does not have a conventional roadmap with timeline on their site. However, under the "Benefits" section on their website, there icons that appear to be their roadmap from left to right; Comic, P2E Game, DAO, Launchpad, Merch, Future Airdrops, Metaverse. On the top menu, there are two tabs for Comic and P2E Game.
What Utility Do These NFT's Have?
"When you buy a Tiger, you`re not just buying an avatar or a provably rare piece of art. You get membership access to a club that will increase in benefits and offerings over time. Your Tiger can serve as your digital identity and open digital doors for you."

– Tigerforce.io
Interested in Bitcoin NFT's? Well, you're gonna need some Stacks. You can buy STX on OKCoin, the preferred exchange of the Stacks ecosystem. You can even earn $50 of Bitcoin as a bonus by using this link. And what's better than free money?
Like most of the Stacks NFT's I have covered so far, the utility simply isn't online yet. They have a Jungle Marketplace for sale and purchase of Tiger Force NFT's. Progress is being made on both the comic and the P2E game: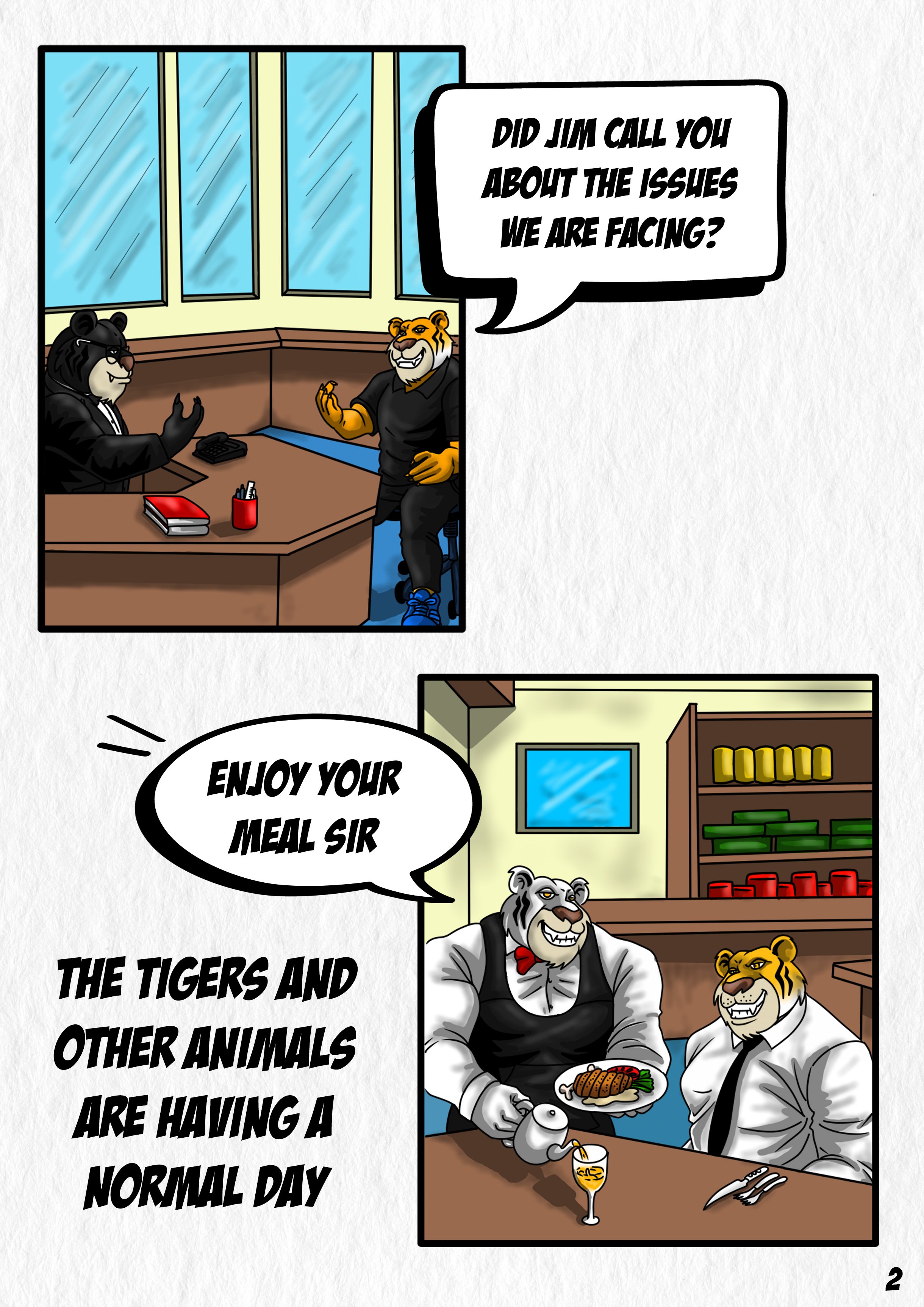 And they are rolling out new projects:
Much of the projected utility rests on the ability of the team to knock out the objectives on their roadmap. With tweets like this hinting toward a possible combat-style game in their Jungleverse, there is plenty of reason to have faith in the development team.
The Tiger Force Bitcoin NFT Community
There are currently 413 owners of the 2000 NFT's in this collection. The community has a Twitter page with 2700 followers and an active Discord. They run a monthly newsletter through Sigle.io, and open-source blogging platform, powered by Stacks, that allows writers to earn Bitcoin. The team at Sigle.io are largely the same group of innovators behind the Explorer Guild NFT project.
How Much Do Tiger Force NFT's Cost Today?
As of June 4, 2022, this collection has a current floor price of 80 STX. With STX at $0.53, purchasing one floor Tiger Force NFT will cost approximately $42.40 USD. With a $62.50 USD price at minting, a floor value Tiger Force Bitcoin NFT has lost 32% of its value in USD since minting, exactly the same percentage drop that Bitcoin has experienced over the same time.
The Future for This Bitcoin NFT Collection
Given the progress that we've seen through the above-mentioned Twitter updates on the P2E game front I am confident in the team's ability to meet the challenge of completing their roadmap. I'm very interested to see how the Jungleverse unfolds. For the time being, it looks like the P2E Jungle Combat game is almost ready to launch.
Where Can I Purchase Tiger Force NFT's?
Tiger Force Bitcoin NFT's can be purchased at:
Are Tiger Force NFT's a Good Investment?
While none of this is to be construed as financial advice (please see the website disclaimer), anyone who reads this blog or follows my Twitter already knows that I am very bullish on the outlook for Stacks cryptocurrency, the underlying blockchain for Tiger Force Bitcoin NFT's.
NFT's on Stacks are absolutely exploding since their debut in 2021. In addition to their recent listing on Coinbase, the Stacks ecosystem is best represented on OKCoin, where you can get exposure to Stacks, Arkadiko Finance, and CityCoins like MiamiCoin and NYCCoin. Stacks is the protocol that brings d'Apps, NFT's and Ethereum-like utility to Bitcoin. I am a believer that any exposure to Stacks comes with tremendous future upside potential. So, while everyone should do their own research before investing in any NFT or cryptocurrency, I think the future of most NFT projects on Stacks hold considerable promise.
-The Crypto Trend Analyst